Give me smut and nothing but!
Alternatively titled, "Ah, the Adventures of a Slut!" Either way, quotes from Smut by Tom Lehrer. (Listen to the song, LIVE 1967)
It seems that time has gotten away from me again, my loves. I just can't seem to sit still long! I've been up to so much modeling, readings, concerts, events... let's dive right in, shall we?
Let's start with literacy. In case you're somehow still unaware, my other half is a crazy talented author (among other artistic pursuits, which I'll get to later). He recently sold out a numbered, limited edition printing of Declension from Dynatox Ministries. I scooped up #3, and let me tell you, it is nothing short of brilliant. A torturous frolic through language, that madness could only dream of accomplishing. You can't have my copy, so I guess the point is, just hope he puts it out on Kindle someday. He was also featured in an anthology titled Fifty Secret Tales Of The Whispering Gash: Queefrotica, along with a couple other fabulous friends. The book is a charitable effort in the fight against breast cancer.
At a going away party for a dear girl moving to Australia, where I can be constantly jealous of her fraternization with wallabies, an impromptu reading of two stories occurred. I was especially moved by selection written by Andy deFonseca, about the last few moments of a woman in space. Some are humorous, but my favorites are those that take the giggle-infused topic and spin it in a really quiet, even poignant, yarn.
Speaking of readings, I had the pleasure of attending another Bizarro Hour at Knockbox. This time there was a christmas miracle, after having read Ultra David Vs. Mecha-Goliath (in Issue 11 of the Magazine of Bizarro Fiction, btw), Jesus instigated a rap battle with Santa Claus. Drinking in the madness of the holiday with me were Viva La Muerte (pictured left) and Hot Bassist Karen (pictured right).
This year, I had the distinct pleasure of road tripping up to Racine for a reading held by the one and only Justin Grimbol. I have no photo documentation of this, but I "helped" with Michael's readings by getting poster boards stapled in my hands, and then lighting pages of a story on fire with a butane torch. Here's a group shot of the artists and their counterparts.
A great many of pinup models are contributing to Scandalous Sundays, spearheaded by author and all around wonderful person, Tiffany Scandal. Don't have to ask me twice to get naked, especially for a good cause like supporting small presses. Two of these promotional photos were promptly memed.
Ordinarily, boyfriend works the frontman angle in his band, but last month he filled in for Jilt as drummer. I have such a great time shooting the shows. The music scene is so incestuous, and I mean that in the very best way. The guitarist was a fill-in, too, so in a way it was a very experimental show.
The very next week, I had the distinct pleasure of seeing Skinny Puppy live in concert at the Vic. That's a level of theatricality that blows all else out of the water. There just aren't words. Some things have to be felt to be understood.This show falls distinctly into that category.
Around Valentine's Day every year, the Chicago Auto Show returns. Every year I attend. I am no longer devoting the kind of time to drooling over automotive tech as I used to, but I do still love the purr of a good engine, and the sleek line of good engineering. Photo dump to follow:
Ford brought a current Mustang GT to measure rear-wheel horsepower as it runs through the gears (topping out at 140 mph) on a set of dynamometer rollers. The demonstration was running once an hour, and the dyno is a joy to hear.
Mmmmmustang!
While we're on the subject of revving engines, I was elated to attend the Hump Festival Tour at the Music Box on Valentine's weekend. All of the short films were entertaining in their own way. Maybe it was the low budget style hilarity, maybe it was a personal connection to the kink displayed, or the tongue-in-cheek wink-and-nod grin it put on my face, or a panty moistening intense eroticism. There was one entry in particular that sent me on my path to up my game. "Fun with Fire" had my partner and I grabbing hold of each other in shock and heat. I want to try it at home. I want to film it. I want to share it. I'm terrified and overflowing with adrenaline just thinking about it.
No better place to thank GodsGirls, Geneva and Neely, for my lovely gifts. I am so very spoiled. xoxo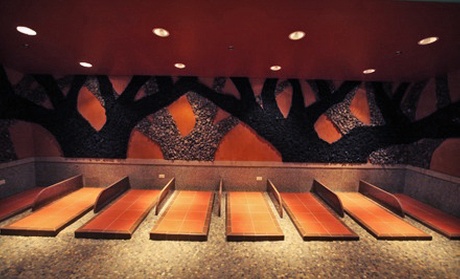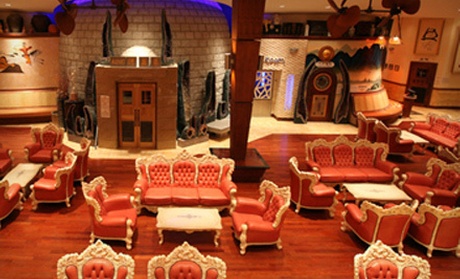 Pictured above is King Spa. Exactly what I needed in the dark, cold misery of December. Come to think of it, I could really use another trip here. Boyfriend and I went for a whole day of relaxing in the spa. It was really refreshing to soak in the pools completely nude. It was wonderful to be in a public environment without any shame at all. Together, in our provided uniforms, we sweat it out in all kinds of different dry saunas. My favorites included the Base Rock Room, Amethyst Room, and - most pleasantly painful - the Fire Sudatorium. The last of which was so hot you couldn't stand for long. You must hunch over to enter and exit through a tunnel door, which is presumably an effort to retain the extreme temperature in the room. I was coaxed into the Ice Room, but in my estimation, that one sees the least traffic. If I wanted to be cold, I'd go stand outside. Brrr!
If you're still in the market for a sexy calendar, might I suggest ordering this one? Available in both print and digital forms. I happen to be Miss June. SNS Photo is one of my very favorite photographers to work with, and we have some truly sick, twisted, and brilliantly sexy shoots planned this year. I'm overly eager to be able to show you the fruit of our collaborations!
I'm still getting mostly naked on stages. The first adventure was driving up to Madison, WI for Fire Ball. The audiences up there have been consistently some of the best I've ever had the pleasure of entertaining. The energy loop that we create is exhilarating! This year's theme was Gods and Monsters, so naturally I took a nerdlesque slant on it to create my Flying Spaghetti Monster act, Pastafarian. I like to think of myself as a High Priestess for the FSM. Watching the other acts that evening, I'm floored by the talent I'm surrounded by.
"Pastafarian" @ Fire Ball VI: Gods and Monsters, The Majestic, Madison, WI
Next on my plate was creating an entirely new burlesque act on a budget of $20, and using only items procured from the dollar store. Thrifty Thrills was a burlesque benefit supporting Chicago House, in which each of the performers was given a max budget of $20, and assigned a type of store from which to shop exclusively. Other dancers were given drug stores, hardware stores, toy stores, etc. This is how Cinema was born. I enjoyed the concept so much, I just may recreate it on a more glamorous scale.
"Cinema" @ Thrifty Thrills at Mother's, Photo Credit: Greg Inda Photography
Next benefit was on Mardi Gras at Underground Wunderbar. This is their annual Breast Show Ever, benefit for the battle against breast cancer. Greater Than is an act that I'm particularly fond of, and until now it has had no documentation. I'm thrilled this has now been remedied! It was also a reunion show of sorts, some of the lovely ladies taking the stage that night I'd not seen in ages. So good to party with them, sip champagne, and dance on the bar after the show.
"Greater Than" @ The Breast Show Ever, Underground Wunderbar. Photo Credit: Burlesque Box
It is almost that time again, kiddies! Fierce 2: The International Queer Burlesque Fest is headed to Madison, WI. (Two of my favorite, artistically freeing things at once! Squee!) I took to Underground Lounge to donate my performance to a fundraiser for the festival. Fittingly, I trotted out my Pinstripe Suit, as that is what I rocked the stage with at the first Fierce Fest. I've submitted my application, and now I anxiously await word with fingers crossed. With a bit of luck, I'll be bringing Serenity back to Madison. :)
"Pinstripe Suit" @ Fierce! Fundraiser Show, Underground Lounge. Photo Credit: Burlesque Box
I'm not Glam all the time. Sometimes I stuff my face full of pączki.
No one in the 'verse can stop my nudity on the internet.
"Feathered" is my fourth set on GodsGirls.
"Just the Pearls" by Louis Fitch
"Amazing Grace" by OhSoNaughty
"My Own Little Corner" by OhSoNaughty
"Come Upstairs" by Syzygy
Coming to Zivity on St. Patrick's Day 2014
As always, there are incentives for fans that vote on my Zivity sets. You can see a complete list of what is available for each set here. I always love to read the comments left on my sets, too. It is good to know that when I throw myself, naked, into the void, it is appreciated. Getting feedback from fans is one important part of how I continue to grow as a model, and define my voice with the lens. The other major influence is continuing to challenge myself as an artist. Trying new styles, working with different photographers, pushing my own boundaries, and owning the interests that shape me take me further. To that end, I'm truly interested in blending glamorous, precise artistic narrative with unabashed, explicit kink. With that mission statement, new art will be born this season.
A teaser from what is possibly my next GodsGirls set. Keep an eye out for further updates on this front.
Given the challenge to submit cover art for the next issue of the Imperial Youth Review, boyfriend and I set out to create an image that opens people up to a questioning view of sexuality. Neither of the following images are the one chosen for the cover, but strong runners up, which I am emotionally attached to. The kind of thing that I share freely on FetLife, and expressions of my personal journey. Many thanks to Garrett Cook for being a spectacular human being, artistic colleague, fan, and friend.
"Shibari Embrace"
"Corporal Punishment"
I'll leave you with a wonderful quote from one of my favorite actresses, role model, and spirit animal, the incomparable Betty White.
Until Next Time.
All My Lust,
-Sauda